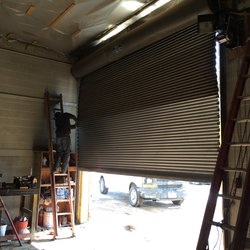 KG Doors & Gates provides service for all commercial overhead doors and gates. Our experienced technicians repair or install a wide variety of brands and different models as well as fabricate custom solutions to meet your needs. From over-sized semi dock doors to single car full view glass doors – we do them all!
Overhead security grilles and parking gates are among some of our daily servicing for commercial garage door repair in Chicago. On top of that, we will ensure your day-to-day business operations will continue to run smoothly as we can provide you with same-day service. Our highly skilled team of professionals will diagnose and fix any issues you may be dealing with and you can rely on our extensive work history to get the job done right! We have well over 16 years of experience with commercial garage and gate service, so rest assure that we will
Call us today for garage door and gate service for your business by dialing 888-790-7624 and ask for a free estimate! Additionally, we provide a parts and labor warranty for all of our commercial services.